Welcome to the Tom Clancy Wiki,
Currently housing
682
articles.
Featured Wiki Project

H.A.W.X 2 is the Tom Clancy Wiki's featured project. As with every title released there is naturally going to be a large amount of information the needs to be added. Currently we could use help with quite a bit, from the general storyline to different featured aircraft. For those who purchased the game for PC we could use screenshots and even simple information such as characters and missions.
Here on the Tom Clancy Wiki we like to add as much information as we possibly can, and as such we could use more than just your normal Wikipedia information. Aside from in-game content we could also use info based on the behind the scenes. Facts like trivia, cast and crew members and even a complete walkthrough of the game will be needed. If you got some extra time on your hands feel free to check it out!........(H.A.W.X 2)
---
More Featured Articles, Nominate Article

Next Release
Ghost Recon: Future Soldier is coming
Q1 of 2011!...
January 1 2011 0:00:00 EDTThis message will be displayed if the timer does not show up (like if you do not have javascript enabled on your browser)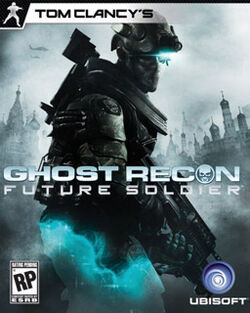 (Spoiler Warning)
---
"Splinter Cell: Blacklist" will be released August 20, 2013!
Tom Clancy News
Chris Pine is Jack Ryan!
Written By: SawBucks - January 26th, 2010
A while back Chris Pine had been deciding whether or not he should take on the role of one of Tom Clancy's lead characters Jack Ryan...it has been officially released that he will indeed be becoming the forth actor to play the role. While the decision has yet to have been made as to which of the many screenplays they will be accepting, IMDb has made note that Pine will be playing in an "Untitled Jack Ryan Project". Rumors have been circulating that the film may either be a remake of an older Ryan novel, a remake of one of his films or even a brand new, never before witnessed story for us all to enjoy. One way or the other, the film isn't due to be released until sometime in 2012.



New Tom Clancy Novel.
Written By: SawBucks - August 18th, 2010
On April 8th, 2010 The Independent.com released information that Clancy teamed up with Grant Blackwood (veteran of the U.S. Navy) to write his latest novel Dead or Alive. The novel will be apart of the Ryanverse and as such shall contain many characters from the series past. This next installment of the techno-thriller series will focus on terrorism in the modern day.
It's been over seven years since Clancy has released a novel but he's coming back strong with Dead or Alive. The novel will feature Jack Ryan and his newest recruits tracking down a terrorist named The Emir. The Emir evaded being captured by multiple agencies and is now on the run from Jack Ryan, Jack Ryan, Jr., John Clark, Ding Chavez as well Ryan's cousins Dominic and Brian Caruso, who have orders to bring The Emir in dead or alive. The novel is due to be published by Penguin on December 7th, 2010.
---
Suggest News, Old News
Featured Quote
"

Tom Clancy: The difference between fiction and reality? Fiction has to make sense.


"
---
More Featured Quotes
TCW Twitter Updates
Loading RSS data...
---
Follow us on Twitter!

Tom Clancy Wiki Blogs
So here's one for all you EndWar people, is the SGB an Organization or a Division? We've always labeled it as an organization but now it's popping up as a division of the Russian Army.

Read more >

One thing we're looking forward to on the Tom Clancy Wiki is the new achievement system Wikia has initiated. Basically we create goals for users to shoot for and in return they are rewarded with poin…

Read more >

As you may have noticed Wikia has changed the watchlist to a new "Following" system, which works almost exactly the same way. One major difference however is the fact that your followed pages will be…

Read more >
---

Disclaimer
This Tom Clancy encyclopedia is a fan site only and not in any way related to Tom Clancy, Ubisoft or any other of it's affiliates. All copyrights and trademarks belong to their individual owners and material on this website is used by the terms of Fair Use under the United States Copyright policy. Any one person is allowed to edit the Tom Clancy Wiki and as such material that violates this policy my be added. If you do happen to come across any violations please report it to an administrator and it will be removed or edited as soon as possible.
---
See the terms of Fair Use for more information.
Ad blocker interference detected!
Wikia is a free-to-use site that makes money from advertising. We have a modified experience for viewers using ad blockers

Wikia is not accessible if you've made further modifications. Remove the custom ad blocker rule(s) and the page will load as expected.