NATO

Organization
Faction:
Intergorvernmental Military Alliance
Organization Details
Status:
Active
Base:
Brussels, Belgium
Motto:
"Peace in Freedom"
The North Atlantic Treaty Organization (French: Organisation du traité de l'Atlantique Nord (OTAN)), also called the North Atlantic Alliance, is a intergorvernmental military alliance established by the signing of the North Atlantic Treaty on 4 April 1949. The NATO headquarters is in Brussels, Belgium, and the organization constitutes a system of collective defense whereby its member states agree to mutual defense in response to an attack by any external party.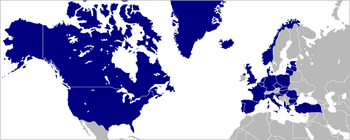 Ad blocker interference detected!
Wikia is a free-to-use site that makes money from advertising. We have a modified experience for viewers using ad blockers

Wikia is not accessible if you've made further modifications. Remove the custom ad blocker rule(s) and the page will load as expected.