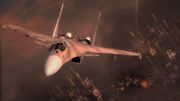 Alex Hunter was the number three pilot of the US Air Force's ace H.A.W.X Squadron. During the insurgent crisis in 2021, he flew with the X-Squad under the command of former pilot Colonel David A. Crenshaw to halt insurgent activity in the Mideast. In the latter part of the war, when Dimitri Sokov flew as his wingman when he and Drachev defected, he joined the fight against General Morgunov, liberated the Kremlin and killed Morgunov to avert a nuclear launch, which could have killed billions of people.
Ad blocker interference detected!
Wikia is a free-to-use site that makes money from advertising. We have a modified experience for viewers using ad blockers

Wikia is not accessible if you've made further modifications. Remove the custom ad blocker rule(s) and the page will load as expected.